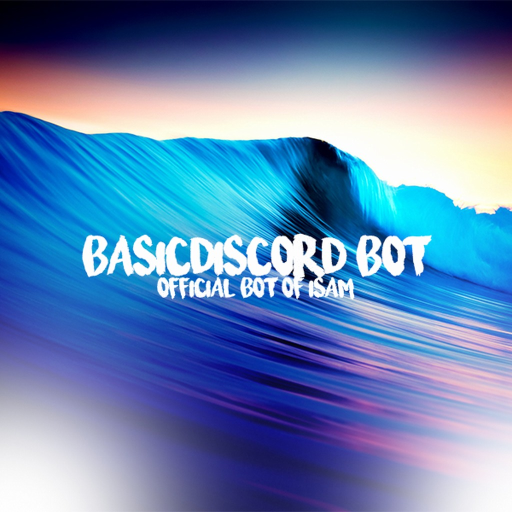 BasicDiscord Bot
discord.py
OFFLINE
Another BasicDiscord Bot
Bot Prefix: d.
iSam.py#2406
Click Here To Visit The Bots Website
General Commands
d.ping -- See The Bots Response Time
d.welcome -- Displays a Welcome Msg
d.botinvite -- Invite The Bot To Your Server!
d.serverinvite -- Gets a Server Invite
d.repeat -- make The Bot Repeat (Needs "")
d.embed -- Embeds a Msg"
Admin Commands

d.ban -- Bans a Memebr
d.banid -- Same As ban, But You ban By User ID
d.unban -- UnBans a Member By ID (Get ID In Server Settigns)
d.kick -- Kicks a Member
d.mute -- Mute a Member
d.unmute -- Unmutes a Member
d.clear -- Clears The Chat 2-100
d.joined -- Tells When a User Joined The Server!)
Game Commands

d.eightball -- Ask The Eightball!
d.roast -- Roasts a Member
d.guess -- Play a Guessing Game!
d.kill -- Kills a Member
d.hug -- Hugs a Member
d.logang -- Says a Logan Paul Phrase
d.add -- Adds 2 Numbers Together
d.coin -- Flips a Coin
d.boobs -- Show a Nce Image Of BOOBS!
d.nb -- Show a Cool Text Image
d.rps -- Play a game of Rock,Paper,Scissors Vs. The Bot!
Informational Commands

d.donate -- Donate to The Dev!
d.botinfo -- Info about the Bot
d.userinfo -- Shows Info about the User
d.serverinfo -- Shows Info about The Server
d.listservers -- Lists All The Servers Im In
d.sicon -- Shows The Servers icon With URL
d.version -- Shows The Bots Version
d.changelog -- Shows The Bots Changelog
d.count -- Shows The Bots Servers and Member Count
d.msgs -- Shows The Users messages
d.contact -- Contacts The Dev And He Will Join
Dev. Commands

d.echo -- Makes The Bot Say a message
d.say -- Lets The Dev Say Info With Servers
d.rechat -- Logs The Chat (Sends To Dev)
d.timer -- Under Development (Avabliable Soon!)
Music Commands
dm.play -- Plays a Song (URL or Key Words)
dm.summon -- Summons the bot to the Voice channel you are In
dm.skip -- Skips The Current Song\n"
dm.np -- Shows whats Now Playing
dm.disconnect -- Disconnects The Bot From Voice